30 Years of Staffing South Central PA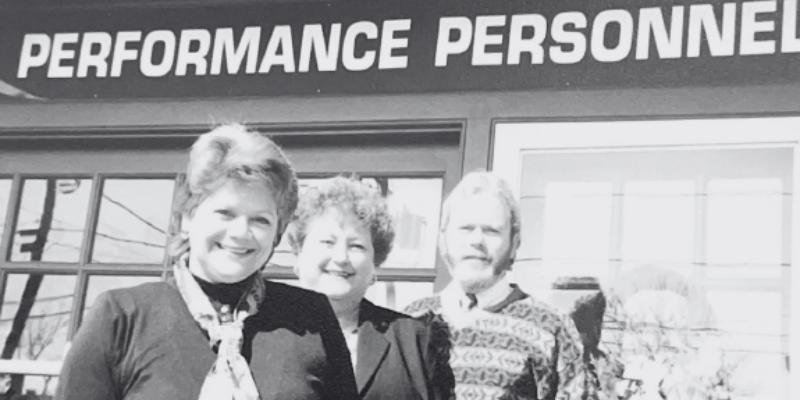 The Performance Group is celebrating 30 years of business in 2023. Time really has been flying! In honor of our 30th year providing staffing and recruitment services for some of the top businesses in South Central Pennsylvania, we're giving you a glimpse into the past of how TPG came to be what it is today.
The Performance Group Origins
The Performance Group was founded to meet the large-volume recruiting needs of a single textile production company in rural Ephrata, Pennsylvania. In 1990, our founder Paul Mohr, was working as the Controller of Skip's Cutting Inc. He quickly realized that the company was very unhappy with the quality of employees and service that they were receiving from the multiple services they were working with to staff their business and warehouse operations. Just like that, The Performance Group was born. In order to best service Skip's Cutting, Paul Mohr presented the plan for TPG. And on July 28th, 1993, originally under the name Performance Personnel, The Performance Group was incorporated.
Paul Mohr immediately recognized that in order to ensure long-term success of our company, we would have to build a diverse client base that extended beyond Skip's Cutting. Once the original office in Ephrata, Pennsylvania was firmly established, the company expanded by opening branch offices in West Lawn and Lebanon. From there, TPG quickly expanded its operations and began servicing Lancaster, Lebanon, Berks, Lehigh, Dauphin, Bucks, and York counties. Its operations grew beyond Pennsylvania, and to-date, The Performance Group has done business in over 30 states. We have serviced companies ranging from local to Fortune 500 along the way, and our list of strong, strategic partnerships includes (but is not limited to) industry powerhouses such as: Utz Brands, Mattel, Snyder's-Lance, Amerimax, Pitney Bowes, and The Hain Celestial Group.
Where We Are Now
Today, The Performance Group has 6 offices in Hanover, York, Lancaster, Reading, Allentown, Lebanon, and a corporate location in the place it all began: Ephrata. Additionally, we have a continuously developing and growing Professional Placement Division for direct-hire and highly skilled opportunities. While our core business is still manufacturing and warehouse staffing, we now offer specialized recruitment services in Accounting, Engineering, Production Management, and more. Although we still retain the family-driven values we were founded on, TPG's vision and leadership has expanded, and is proud to employ approximately 45 dedicated staffing and recruitment professionals.  Paul C. Mohr (founder Paul J. Mohr's son) now serves as the President and leads in his father's footsteps.
TPG's Chairman and Founder, Paul J. Mohr says, "When I started Performance, there were no great expectations. It was strictly to service Skip's Cutting. The fact that it grew into a fairly nice-sized company, and a lot of good people working with me, makes me feel pretty happy with what we've accomplished over 30 years."
If you're a hard-working job seeker looking for employment or a company in need of recruitment assistance, we would love to work with you and have you be a part of our journey!