Always Tired At Work? This Might be Why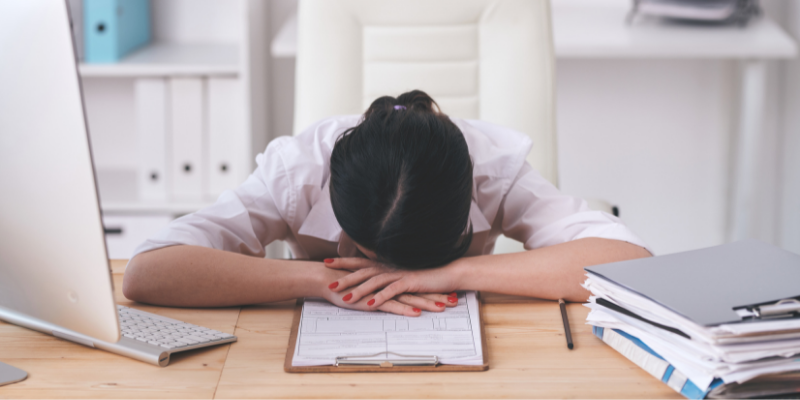 As we continue to bring awareness to National Safety Month, this week we are touching on workplace impairment. Workplace impairment can come in many forms. It can be substance use on the job, but it can also come from a mental place. Stress and fatigue can also be impairing to work performance and most people tend to struggle with both. In this blog, we are looking at fatigue specifically and what might be causing you to be so tired all the time at work. If that is something you struggle with, keep reading!
Poor Sleep
The most common and most obvious reason that workers are tired during the day is thanks to their sleep schedule. In our most recent blog, we discussed how this contributes to poor mental health in the workplace and less motivation. The National Sleep Foundation recommends 7-9 hours of sleep to be well rested for work the next day. Put down the phone and get to bed earlier!
Not Enough Down Time
Maybe you're always tired at work because you don't allow yourself to have a lot of downtime. Down time is essential when it comes to refreshing, relaxing, and de-stressing after a busy workday. Having designated time to not think about work gives your mind and body time to reset and prepare for the next work day.
Life at Home
Just like we bring work home, sometimes we bring home life to work. Are there problems at home or in your personal life stressing you out? Chances are they might affect your time at work too. Keeping your work and home life separate is an important part of maintaining balance between the two. It is easy to let the issues of one impact the other but getting the exclusivity down to a science will help maintain stress levels at either one. And we all know the positive relationship between fatigue and stress.
Working Overtime
That being said, it is important to maintain a healthy work-life balance. Working overtime by no means a bad thing and can help financially, but it certainly needs to be done in moderation. Too much overtime can lead to exhaustion and burnout in the workplace which impacts performance and mental health. If you feel like you're always catching up, feel distant from friends and family, or see your health declining, you might need to take a look at the hours you're working.
Lifestyle
At the same time, maybe it's time to take a look at your general lifestyle. Are you eating healthy? Do you have a daily routine? What about exercise? These are all factors that can have an impact on your fatigue levels. Eating excessive amounts of sugar, for example, can cause blood sugar instability and inflammation. Having a daily routine and schedule will reduce the amount of decisions to be made in a day and consequently levels of stress in making those decisions. Many things about our daily lifestyle play a role in how we feel each day.
Wrong Career for You
If none of the above resonate with you, maybe this career or job just isn't your calling. When we enter a career path that we're passionate about, we generally find at least some bit of excitement each day. If you find yourself bored often or simply dread going to work, it might be time to consider other options. Choosing a career that makes you excited to go to work will make you feel more satisfied, energized, and most likely not bore you into tiredness. Read this blog to help you determine if you are in need of a career change.
To learn more about work impairment and to find additional resources, visit the National Safety Council's website.