8 Tips to Strengthen Your Resume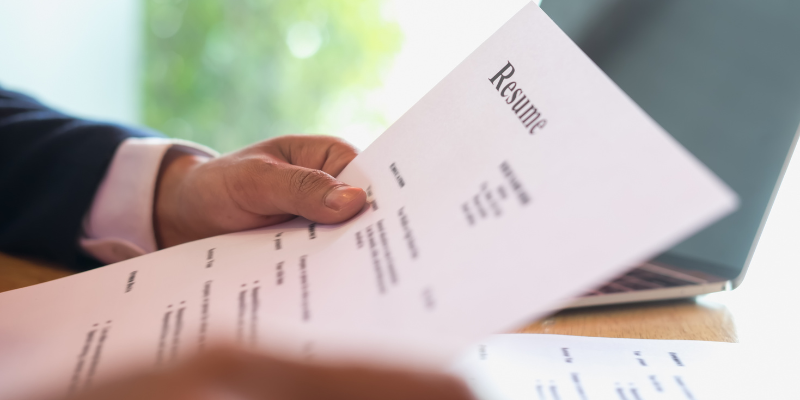 Everyone knows the importance of first impressions. They can quickly determine someone's perception of you and future thoughts about you. In the working world, resumes are our first impression for an employer. They are meant to be your best foot forward, the best showcase of your work and accomplishments, and most importantly, your stepping stone to proving you're the right person for the job. There are many professionals and services that will help you revamp your resume to get you that dream job, but the truth is that it's not a top secret recipe to strengthen your resume. It's actually somewhat simple and comes down to a few key items. With that being said, let's look at the ways we can make our resume our best first impression for a position.
Tailoring
Arguably one of the most important ways to strengthen your resume and make it stand out to employers is by tailoring it to the position. Different jobs require different responsibilities and qualifications and the same resume will not stand out to all of them. That's why it is so important to tailor your resume to each job or type of position you're applying for. This means adjusting skills, adding or deducting responsibilities from previous jobs, and similar actions to make it all the more relevant.
Keywords
On this same note, there are a few ways you can utilize keywords to tailor your resume and make it even better and more appealing for a position. First and foremost, make sure to utilize keywords in your industry within the body of your resume. This will strengthen your resume in making it more relevant to the industry and position. Additionally, you can use keywords from a job description to make your resume more searchable to the employer. Using keywords from their job description will make yours stand out among the rest as you will be deemed a perfect fit.
Looking to gain work experience and skills to add to your resume? Check out our blog on how temporary work can do just that.
Format, Format, Format
There are many right and wrong ways to format a resume, but there are a few key guidelines that will steer you in the right direction. An overarching rule is to keep it to one page and be as concise with your words as possible. There's nothing more frustrating to a hiring manager than flipping through pages of a resume trying to find out what's relevant to the job. With this in mind, make sure the following is also in order: readable and professional font (11-12pt size), 1″ margins and left-aligned, and clear sections and headings with bullet points. This is a good general basis for how resumes should be formatted.
Visit resume.com for guided help on building your resume and see examples from experts in your field.
Skimmability
Hiring managers are extremely busy, especially right now with staffing shortages. They are constantly looking at resumes, interviewing candidates, and recruiting to find the right people for their open positions. So when it comes to your resume, you need to ensure that it is easily skimmable. Meaning, if a hiring manager has little time to look at your resume, they can easily find everything they need to know in merely a few seconds.
5 Second Rule
On that same note, your resume needs to stand out immediately to employers. Meaning that within the first 5 seconds of reading your resume, it stands out to them. Think of it as the 30 second elevator pitch. You have a limited amount of words and time to pitch why you are the right candidate for a job. What are the most important things you want to say and include? This should be your basis for writing and formatting your resume.
Avoid Clichés
Everyone hates them, so let's learn what ones to avoid on our resumes. You will find most of the resume clichés in the skills section. These are the overly used and broad skills that everyone includes and therefore have become irrelevant to hiring managers. Without further ado, these are the culprit terms: team-player, good communication, hard worker, and detail-oriented. Instead of listing these terms as is in the skills section, provide examples of how you have demonstrated these skills in the workplace.
Quantify
Nothing validates a resume or work experience like numbers and statistics. f you truly want to portray what you can do and your abilities, numbers in a resume are essential. How do you do this though? Let's say you put that you increased overall sales in your position at Company X. Instead of simply saying that, quantify that number and provide something like a percentage or dollar amount that you increased sales by. This gives validity to your statement and gives a better representation of you performance.
Show Off
Not all of us like to show off our accomplishments, but our resume is the one place we should never be humble. Here is where we need to showcase our greatest awards and achievements. Employers want to find the best person for the job, and being humble on your resume will not prove that you are that person. So do not be humble. Be a show off!
Want more tips to strengthen your resume? Take a look at this blog on how to turn resume weaknesses into strengths.
Resumes can be hard to nail sometimes, but with these tips, it makes it a little easier to navigate. Leave a comment below if you found these tips helpful or you have additional tips for our readers!